14 Residential Lots are now available on the flat lands of The Balvine Estate, Picard in the north of Dominica.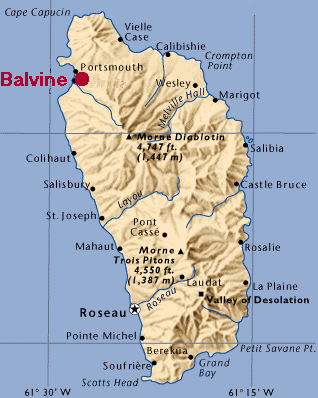 This seven acre area sits a mile inland and about 250 feet above sea level. It offers wonderful west facing views over Prince Rupert's Bay, one of the Caribbean's finest natural harbours. The east view is just as breathtaking with Mourne Balvine rising majestically to over 800 feet. There is an abundance of truly amazing wildlife...
Portsmouth (the second largest town in Dominica) is only two miles away and has everything you'd expect including schools, banks, shops, churches and a hospital. And several builders' merchants... Both Canefield and Melville Hall airports are only 20 miles away. The presence of Ross University Campus about a mile away, together with the planned Marina and other Government supported projects has also helped make this part of the island much sought-after.
The climate is fantastic, beautifully warm, yet several degrees cooler than experienced in the south of the island. Typical average daytime temperatures of 32°C (90°F) contrast with the pleasant evening temperatures of 23°C (72°F). The cool evening mountain breezes make air conditioning unnecessary for most people...
The calm tranquillity of the area gives you the opportunity to enjoy a quality of life beyond your wildest dreams...
Prince Rupert Bay is the best and largest beach on the island and also offers a safe mooring for boats. There are many SCUBA diving and snorkelling sites dotted around the coast within a short distance. Swimming is also possible in the various natural "swimming holes" that exist in the Picard River, about a mile away.